MOM HACKS
We asked our community to share your most inventive, creative or plain old everyday "Mom Hacks" as part of our mama-site-take over this month. What is a Mom Hack? It's basically an IKEA hack, but for MOMMING. Little tricks, time-savers, and mama secrets that we learn along this intense journey called motherhood that makes us a little less crazy and our time with kiddos a little bit more enjoyable and fun. As mamas, we know that wisdom is POWER and that motherhood continues to send us new curve balls just when we think we've "figured it all out." Hopefully you will learn a new trick or two, and if nothing else, enjoy the creative wit these mamas possess.
LINDSAY MEYER-HARLEY (PORTLAND, OR)
TAKE A STROLL
Sometimes as parents we tend to overcomplicate things. Kids really don't need as much as we think they do. An everyday "Mom Hack" that I like to use is to just get out for a stroll, don't be in a rush, let them climb the stairs, smell the flowers, check things out that are around. You don't need kid space, you just need to find a quiet street or a park to enjoy!
Kellie Lim (portland, OR)
PACK-HACK
Dress littles in clean clothes at bed time instead of PJs when you need to get out of the house fast in the A.M. Pack an extra change of clothes in a wet bag so you have somewhere to put soaked items when you're out and about. Finally, pack sunblock in a contact lens case for portable and easy access when on-the-go.
AMANDA HORNBY (SEATTLE, WA)
WINDING DOWN
I have always had trouble winding down my 4 year old son before bed - he gets his "third wind" around 8 PM. So since he was 2 years old, we talk about the day in bed. We slowly and calmly review the details of the day - what he had for breakfast, who he played with at daycare, what our family did that night, and what our dreams might be about. It helps calm my son (usually) and by the time our story is done, he is asleep!
EMILY PRICE (PORTLAND, OR)
CRAFTY PRESENTS
My best Mom Hack is birthday present related. Trust me, once your kid starts going to school, there is a party every week.... 1. Stock up on supplies for "paper bag puppet" kits: paper lunch bags, glue, pom poms, crayons, yard. Unique and appreciated in a sea of Lego and Pokemon. 2. I never have wrapping paper around the house but instead keep a few cheap blank tote bags and iron-on patches (or fabric paint) for a quick + easy customized gift bag!
HANNAH FISCHER (PORTLAND, OR)
THE TRASH CAN SMOOTHIE
For picky eaters and moms who hate to waste food. The smoothie begins with a delicious base of frozen banana, spinach and berries - then everything and anything that goes uneaten or denied by a picky kid. Half-eaten brown avocado? Check. Your toddler won't eat their broccoli? Throw it in. Leftover oatmeal and yoghurt from breakfast? Yes. Straggler carrots and apple from an unfinished lunch? Blend it right up. the berries hide the "trash can" flavors and your kid eats their dinner without throwing a fit. In liquid form. Add some extra yoghurt for probiotics and echiacea for immunity boost. Packed with veggies and protein they will never know about.
SARAH DORST (PORTLAND, OR)
TODDLER TRAVEL
When traveling with a toddler I make a printed iPhoto flip book. I try to include the people/places we are going to visit and lots of photos of them. What kid doesn't like to see photos of themselves?? It keeps them busy (at least for a while) and I don't have a to give my phone!
MARION LECESNE (MELBOURNE, AU)
#ROCKABYEBABY
Mathilde, age 3 months in the photo, was never a good sleeper during the day. So when she dozed off on our travels between Paris and Amsterdam, my husband and I created this little hammock out of a baby blanket which kept her snoozing during the entire train ride. Win!
CHELSEA SLAVEN (PORTLAND, OR)
DRAW YOUR PLAN
I try to encourage my kids to participate in the things I'm working on if they show interest - but sometimes they simply don't. To buy time, I finish whatever I'm working on and ask them to draw a detailed plan of the thing they want to do, all the supplies they will need, etc. Sometimes just drawing their idea is enough.
ANNA-LUISE MOLYNEUX (PoRTLAND, OR)
THE "DIRTY" DIAPER TRICK
Recently we enjoyed our first toddler beach vacation in Hawaii and needed somewhere to hide our valuables as we went swimming. We wrapped our wallet, keys and phone into a (clean) diaper and placed it right on our towel. No one dares touching a dirty diaper and our belongings stayed safe and sound. Just remember not to throw it out when you leave though!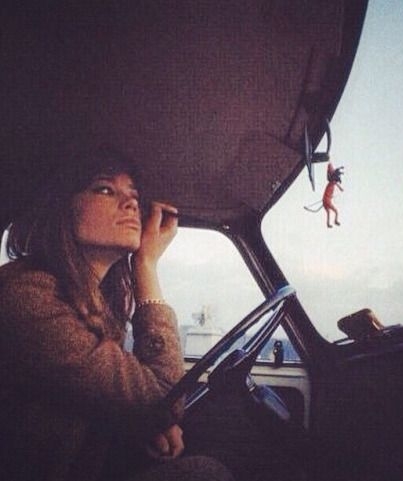 Liza Hendricks (portland, OR)
MASCARA, EVERYWHERE
I keep mascara in every bathroom, in the car, and in my diaper bag at all times. Often I need to get my three kids strapped into their car seats to keep their little hands out of everything before I get the chance to do my makeup, and a little mascara goes a long way! I've become a pro at putting mascara on in the (parked!) car. I also try to keep a neutral lipstick alongside the mascara, but some days you can only do so much....
CARMELA FLEURY (TOKYO, JAPAN)
INVERTED STORYTIME
Combining my needs with theirs. I.e. legs up the wall when reading a bed time story. They get to have some fun while reading their book and I get to catch up on my latest magazine while I do some evening stretching to keep up with my Yoga practice. :)
ALEXA WILDING (NEW YORK, NY)
RECYCLED ART + TWIN DINNER HACK
1. Save their artwork from school and use it as wrapping paper for gifts. With a little colored tape, you've got a super chic gift wrap, the more paint splatter the better! 2. With twins everyone's not going to always want the same thing for dinner, which made me crazy at first as I don't want to give in to two dinners, and I still want them to try new things. So we often do the "Twin Board" - a variation of a cheese board with lots of dinner options: meats, cheeses, veggies, fruits... Eat my children.
ANNA-KARIN LUNDberg (PORTLAND, OR)
HIDDEN MAIL + PIZZA CRUST
1. Repurpose your free (and mostly unwanted) mail catalogs and place into big plastic jars or inside low cabinets that your toddler can reach. Important that they're INSIDE the cabinets so the littles think they're not really supposed to play with them as the thrill of discovery wins every time. Will likely work with other items as well. 2. Pizza crusts have kept my teething 1 year old busy for nearly 45 minutes, the process of chewing, the sensation of the taste and the fun of participating in a "big kid" meal.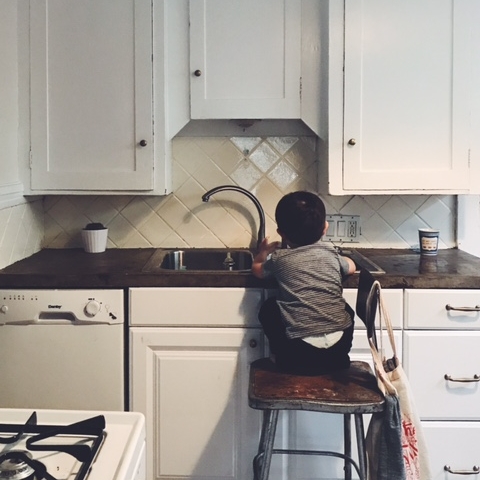 lydia lauer (portland, or)
SINK PLAY
Filling the kitchen sink a quarter of the way with water worked wonders for me this past weekend when I really needed a bit more serenity after Mo took a very short nap. I put a stool up to the sink and he splashed around for a good 30 minutes with out a single complaint and minimal mothering from me!
images sourced above are found via Pinterest and Instagram